We at U.S. Cooler® realize that there is a strong market out there for standard size quality walk-ins and refrigeration at very competitive pricing. As you may know, more and more walk-ins and refrigeration systems are being sold on internet web sites like eBay at very low prices direct to the end user. U.S. COOLER® ONLY SELLS THROUGH AUTHORIZED DEALERS. To help our dealers stay competitive we have developed a list of standard size discount walk-ins that we are offering at a high discount to our registered U.S. Cooler® discount web dealers.
These units come with or without floors and have a variety of refrigeration options. To keep the cost of these units down, we are only accepting paid-in-full credit card payments at time of order. It is the only way we can offer these units at these low prices. Now you will be able to buy U.S. Cooler® Quality and Service at lower than "cheap box" pricing.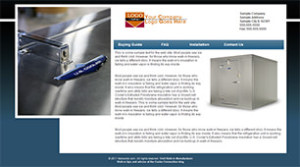 This is a great opportunity to grow your business! Register now to become a new web dealer!
U.S. Cooler® only registers qualifying dealers that meet all the following criteria.
1. Company telephone number needs to be listed in yellow pages.
2. Company must be in the business of reselling walk in coolers, refrigeration systems.
3. Company must have a valid sales tax number.
4. Company must answer the phone with their company name.
U.S. Cooler® will review each application and verify the above data. A U.S. Cooler® sales representative will call you to activate your account. U.S. Cooler® reserves the right to accept or reject any applications at their sole discretion.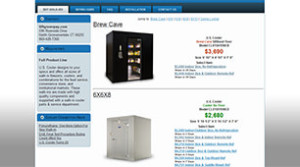 Also to provide better marketing we have developed an Internet program that will advertise our discount dealers at no cost to the dealer. The dealer can pick from over 15 web page designs and submit their company logo and a picture (optional) with a brief description of their business for their web page. We will make your dealer web site searchable by location on our website. U.S. Cooler's® web site is advertised nationally and we will assist the dealers by listing their web page with nationally known search engines. Also to make it even better for our dealers we will provide a shopping cart of selected walk-ins for the dealers on their site at no charge. U.S. Cooler® will take care of shopping cart transactions at no charge to the dealer. For more info on how this process works check out our Internet Dealer Manual. We believe that if we make you more successful, together we will both grow
Register now to become a discount web dealer.
Login now if you are an existing discount web dealer.